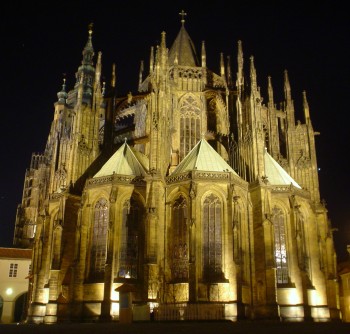 Thailand in Europe Part III -
Republic of Czech and Italy (again)
Republic of Czech
To sum things up, I never ever would have thought Thai people would be living in this country. Like, why would they?! Its eastern Europe! I didn't even remotely try to find them - its like they found me!
(Ill include a pic of the place here when I can find the darn flyer thing)
So the first Thai place I found is near the C line at the Muzeum metro stop. Get out and start walking northwest. It's a really busy touristy area so you will probably find this place without trying, too. The Thai massage place is part of the hotel Ambassador. I went in to check it out during closing time, but no Thai's to be found. The flyers had Thai people wai'ing and listed prices of the nuad 2 (Thai massage). It was about 500 czech (~$25) for a half hour and 850 czech (~$43) for an hour. Expensive!!! Remember, this is eastern Europe, so it should cost much more than at Wat Pho (famous for its Thai massage; ~$5 for half an hour).
But I guess Ill get more for my money as the flyer claims the massage will prevent insomnia and stop my hair from graying. Whoa! Who ever knew?!? =P
(Ill include a pic of the flyer here when I can find the darn thing to take a picture)
But they don't have a monopoly! There was yet another massage place between the astronomical clock and the commy museum, also a very touristy area. I decided to go up the mysterious lone stairway to check it out. Manning the front counter was surprisingly a black guy . . . ok a little odd . . . definitely no Wat Pho here . . .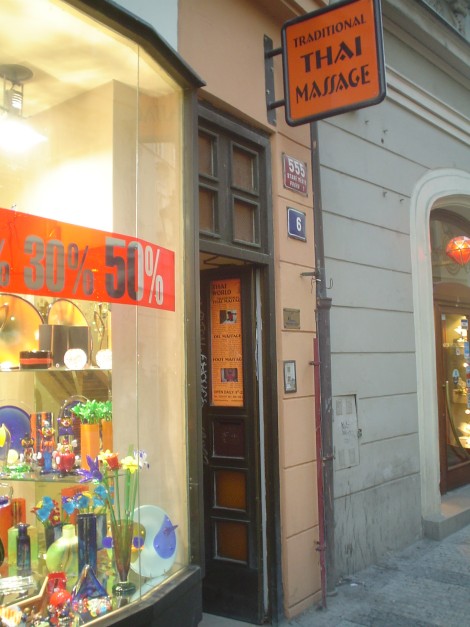 So looking at the prices, it's the same as the Thai Wellness Club. There was also a sign in big letters that emphasized it is 'non-erotic massage' and that you will get kicked out if you tried anything funny . . . But I saw real Thai people in the back! I guess there are a few in the country after all . . .
Italy, Part II
When I travel I like to learn the local language. Sometimes I do it just for fun, sometimes to try to immerse myself more into the culture, and yet other times to locate a bathroom . . . It isn't always a choice, and it isn't always easy . . .
But strangely I was picking up Italian incredibly fast. I'd say 3x faster than I ever learned Thai. Trying to explain it I came up with a few good theories:
I took two years of highschool Spanish, which unexpectedly shared many similarities with Italian.
The language is written using the English alphabet - I can pick up words from signs and other various literature, and I can read it without struggling with some crazy ramen noodle looking alphabet (the Thai alphabet).
And most importantly, by self-learning Thai I have picked up many learning foreign language skills along the way. Could learning a 3rd language be much easier than learning the 2nd?
Anyway, so a google search for Thai restaurants in Rome shows that there are a few in the city. But I never made any attempt to visit any . . .
Yet as I said before, its as if they came looking for me! At the airport in Rome waiting for my delayed flight to arrive, it turns out there was a direct flight to Thailand next to my gate! Thai people everywhere! If only I could have taken that flight instead =(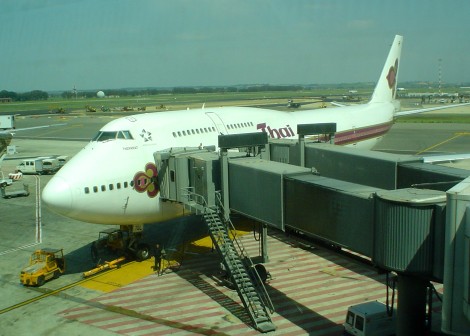 I managed to build up enough courage to make contact . . . Didn't get too much chat time, but I met this nice lady and after a brief introduction I began to interrogate =P
She said she had been living in Italy for almost 5 years with her mom, that she speaks Italian better than I speak Thai (doh!), and that she was finally returning back to her country. She was a little surprised (ok, a lot) I wasn't on her flight . . .
And of course she gave me the typical Thai interrogation, too. Those who are like me will understand ;)
Well, that's the end of my Thailand in Europe report! Hope you find it useful on your adventures! =)